Jerry Chapman
Official home of singer/songwriter Jerry Chapman from Mount Airy, NC. Jerry also shares the stage with power duo Life in General, Jack Johnson cover band Mediocre Bad Guys, Live Karaoke Band Mister Microphone, Muddflapp, The Vagabond Saints, and various other bands in the Winston-Salem area.
The New CD "Sweet Impossible"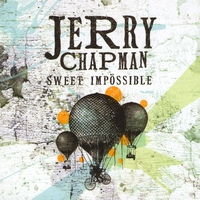 Folk? Rock? Atmospheric pop? Americana? Yes, yes, yes & yes. Simply a beautiful record. Well-written songs. Stellar playing. Oh, and did we mention it's a whole lot of fun?
Jerry's solo CDs include "Making God Laugh," "Rumors of my Death," "Put Me Together" and the newly released "Sweet Impossible".
Contact Jerry Chapman
Reach Jerry through one of the following sites:
Or just email Jerry directly